Dark Chocolate Peanut Butter Mousse Cups
is the ultimate grown up peanut butter cup! Make this for all the peanut butter and chocolate lovers in your life!   
Out of all the made up food holidays out there, can you believe a Chocolate Peanut Butter day does not exist? I mean come on! This is the best food pairing ever! Well thanks to the great minds of Carla from Chocolate Moosey, Miriam of Overtime Cook and 30 of my closest blogger friends we are declaring today Chocolate Peanut Butter Day!  We have all types of recipes to share with you today, from cookies to bars to scones and muffins.  
Want to join in on all the chocolate and peanut butter fun? Follow us on social media all day using the hashtag #ChocPBDay. Share your recipes with us and make sure to stop by our pinterest board.   On  top of the awesome recipes that will keep you busy for awhile, we have a fabulous giveaway  thanks to OXO, King Arthur Flour and Peanut Butter & Co. 
Let's talk about the perfect marriage of chocolate and peanut butter. Seriously I can't think of any food combination that satisfies any food craving more than this.   I don't need much, just give me a jar of peanut butter, a spoon and some chocolate chips. 
Come on. Don't look at me like that. You know you do it to and you know it's the best feeling in the world.  So despite my love for it, I had the most difficult time coming up with a recipe.  Part of me wanted to recreate this tunnel of peanut butter dessert that I had while in Bermuda last summer.  I had a photo of it but no idea how it was made.  The dessert was a rich brownie topped with creamy peanut butter and some sort of chocolate/candy shell.  It was a marvel and delicious.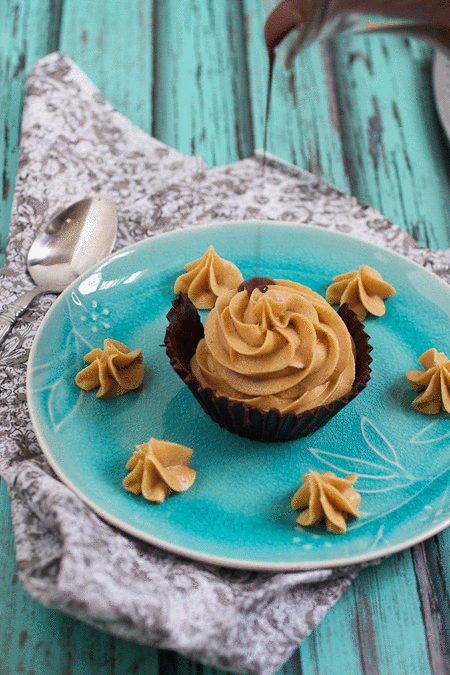 Part of me thought I could take the easy route and just make a chocolate and peanut butter macaron but then this idea popped into my head.  Why not make a giant, grown up peanut butter cup? I consider this dessert restaurant worthy and it's seriously impressive but deceptively easy. 
There is a little bit of equipment required when making this recipe – just some silicone muffin/cupcake liners and a digital scale (like the one from OXO) is helpful.   I haven't tried making the shells in regular cupcake liners but with the silicone ones, it's easy to just peel it right off the chocolate after it sets.  As you can see, a little bit still broke from the edges but just call the look rustic. 
Ingredients
8oz dark chocolate, chopped
1 cup no-stir natural style creamy peanut butter
2oz cream cheese, room temperature
1/4 cup powdered sugar
1/4 teaspoon salt
1 1/4 cup heavy cream, divided
Instructions
In a double boiler or water bath melt the chocolate until about it is 3/4 of the way melted. Remove from the heat and stir until completely melted.
Place 1 silicone muffin cup on a digital scale and tare to zero. Pour in 1 ounce of melted chocolate and swirl the chocolate around the sides and bottom of the cup. You want the chocolate to go about halfway up the sides, swirling 4-5 times.
Repeat 3 more times.
Place the chocolate coated cups on a baking tray and into the freezer for 15-20 minutes to set.
Save the remaining chocolate for the chocolate sauce.
In the bowl of your stand mixer fitted with the whip, whisk 1 cup of heavy cream until stiff peaks form.
In a medium bowl, combine the peanut butter, cream cheese, powdered sugar and salt. Mix in about 1/4 of the whipped cream to get a creamy consistency.
Place 1/3 o the remaining whipped cream in the bowl and with a rubber spatula carefully fold in the whipped cream, careful not to deflate. Rotate the bowl as you fold in the whipped cream. Add the next 1/3 and fold and then finish with the rest.
Place the peanut butter mousse in a pipping bag fitted with a tip of your choice (I used a 1M tip).
Remove the chocolate cups from the freezer and very carefully peel back the silicone cups.
Pipe in a generous amount of mousse in each cup. There may be some mousse leftover and you can store that in the refrigerator for another use.
Lastly, place the remaining chocolate back on the double boiler or water bath and add the remaining heavy cream. Warm until the sauce is thin and pourable.
Pour the sauce over the cups just before serving.
https://girlinthelittleredkitchen.com/2014/03/dark-chocolate-peanut-butter-mousse-cups/
Susan Palmer - Girl In The Little Red Kitchen
 A huge thank you to our sponsors! Be sure to follow them on social media: 
OXO: Website | Facebook | Twitter | Pinterest | Instagram | YouTube
King Arthur Flour: Website | Facebook | Twitter | Pinterest | Instagram
Peanut Butter & Co: Website | Facebook | Twitter | Pinterest| Instagram | YouTube
 Three lucky winners will win one of the following:
 Prize Pack #1: OXO Baking Tool Set: One 3-in-1 Egg Separator, One Bent Icing Knife, One Brownie Spatula, One Cake Tester, One Cookie Spatula, One Cupcake Icing Knife, One Cupcake Corer, One Egg Beater, One Stainless Steel Measuring Cups, One Stainless Steel Measuring Spoons, One Medium Cookie Scoop
 Prize Pack #2: King Arthur Flour ingredients: One bag of all-purpose flour, one package of Guittard bittersweet chocolate disks, and one bottle of  pure vanilla extract
 Prize Pack #3: Peanut Butter and Co. package including: one Dark Chocolate Dreams 6-pack, One Variety 6-pack, and One 31 Days of Dark Chocolate Dreams cookbook
 This giveaway is open to US residents only and will be picked from random draw. Giveaway ends Monday March 31 at 11:59 PM. The winners will be notified via email and have 24 hours to respond. If not, the prize is forfeited and another winner will be chosen.
 Lastly here's a list of everyone participating because what you need right  now is more chocolate and peanut butter in your life.