Next time you bake up sweet potatoes for dinner, toss a few extra in the oven so you can make chewy
Sweet Potato Cornmeal Waffles with Bourbon Cream and Pecan Butter
for a decadent breakfast the following morning.  
 When Courtney from Neighborfood sent out an email about a month ago asking if  I'd be interested in participating in a Galentine's Day post today I immediately wrote back with an enthusiastic yes. In fact, the response was so fast, I didn't blink, think or check if I was free. A post dedicated solely to a made up holiday from one of the best tv shows currently on air?  You bet I wanted in. I almost felt as if Leslie Knope herself possessed me for those few minutes. 
In that time frame that I was possessed Leslie whispered to me to make waffles and make sure it has whipped cream. Then reality took over. Yes Leslie I'll make you your waffles but it's going to be on my terms. 
source/gifstelevision.tumblr.com
Oh, I suppose I should explain what Galentine's Day is, huh? Well first, shame on you for just not knowing.  If you do know, humor me for a moment. Galentine's Day explained by Ms. Knope herself  is "Only the best day of the year.  Every February 13th my lady friends and I leave our husbands and boyfriends at home and we just come and kick it breakfast style. Ladies celebrating ladies.  It's like Lilith Fair, minus the angst. Plus frittatas."
So you see, myself plus my lady friends have gathered today to have our own Galentine's Day Party.  We've got your cocktails, your brunch and of course your dessert. 
I knew waffles were going to happen but I also wanted to find a way to sneak in something from my other favorite Parks and Recreation character. The one and only Ron Swanson.  I know, I know. Today is a celebration of women, but I don't care -Leslie enjoys a glass of bourbon as much as Ron and they both love breakfast food. 
Leslie: "Why would anybody ever eat anything besides breakfast food?"
 Ron: "People are idiots, Leslie."
I actually doubt either of them would approve of the sweet potato in these waffles but I see it as a nice balance of taking what's essentially a healthy waffle and adding stuff to make it not as  healthy of a breakfast. Sometimes you just have to treat yo self.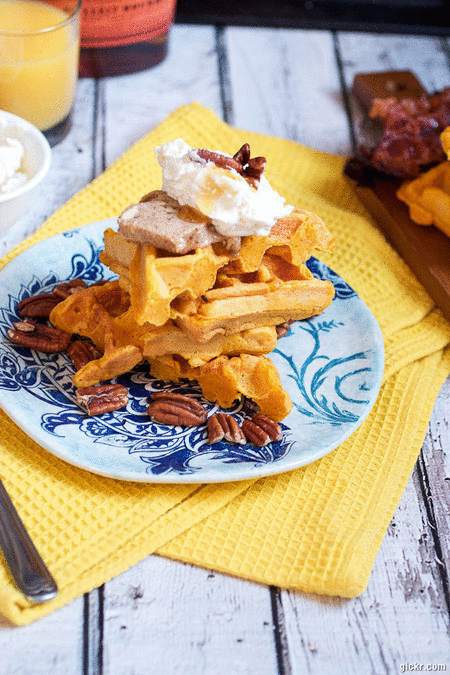 Susan Palmer
Sweet Potato Cornmeal Waffles with Bourbon Cream and Pecan Butter
Ingredients
For the waffles:

1 generous packed cup sweet potato, scooped out from 2 medium sized baked sweet potatoes
1 cup unbleached all-purpose flour
1/2 cup yellow cornmeal
2 tablespoons brown sugar
1 1/2 teaspoons baking powder
1/2 teaspoon salt
1 cup whole milk
2 large eggs
2 tablespoons unsalted butter, melted and cooled

For the pecan butter:

1/4 cup toasted whole pecans
4 tablespoons unsalted butter, room temperature

For the bourbon cream

3/4 cup heavy whipping cream
1 tablespoon bourbon
Instructions
For the waffles:

In a large bowl mash the sweet potatoes with a potato masher or with the back of a fork.
Add the flour, cornmeal, brown sugar, baking powder and salt.
In a small bowl, whisk together the milk, eggs and melted butter. Pour the liquid ingredients in the dry and stir well until combined to form the batter.
Prepare your waffle iron according to its instructions and spray with non-stick spray or grease with melted butter. Cook the waffles according to the proper method of your machine.

For the pecan butter:

Using a spice grinder or mini-prep, grind the pecans until they are finely ground and almost have the consistency of wet sand. If there are some small pieces when you grind the pecans, they can remain. Transfer to a small bowl and mix with the softened butter. You can either place the bowl in the refrigerator to firm up or transfer to a small amount of parchment paper and form the butter into a log. Twist the ends of the parchment to seal and place in the refrigerator for 30-45 minutes to firm up.

For the bourbon cream:

Once the waffles are completed and ready to serve, combine the heavy whipping cream and bourbon in a small container and using an immersion blender – blend on medium speed for 1 minutes or until the cream is nice and thick.
You can also whip the cream in your stand mixer with the whisk attachment or by hand with a whisk in a cold metal bowl.
Serve the waffles piping hot topped with pecan butter, a generous amount of bourbon cream and maple syrup.
Makes about 8-10 waffles depending on your waffle maker.
https://girlinthelittleredkitchen.com/2014/02/sweet-potato-cornmeal-waffles-bourbon-cream-pecan-butter/
Susan Palmer - Girl In The Little Red Kitchen
So how about we get to the rest of those Galentine's Day recipes? How do you plan on celebrating Galentine's Day today?
Galentine's Day Drinks
Blood Orange Bourbon Fizz with Fried Sage from Lauren of Climbing Grier Mountain
Chocolate Dipped Strawberry Martini from Shanna of Pineapple and Coconut
Ladies' Night Rum Punch from Lindsay of The Live In Kitchen
Galentine's Day Brunch
Sweet Potato Cornmeal Waffles with Bourbon Cream and Pecan Butter from Susan of Girl in the Little Red Kitchen
Chocolate Dipped Donuts from Angie of Big Bear's Wife
Lemon and Ginger Scones from Lauren of Healthy. Delicious.
Beet, Blood Orange, and Chèvre Salad from Lori of Foxes Love Lemons
Galentine's Day Desserts
Piña Colada Cupcakes from Courtney of Neighborfood
Strawberry Chocolate Dessert Bars from Marly of Namely Marly
Banana Peanut Butter Cupcakes with Peanut Butter Chocolate Frosting from Nancy of Gotta Get Baked
One Layer Fudge Cake from Liz of That Skinny Chick Can Bake
Double Strawberry Angel Food Cake with Whipped Vanilla Creme Fraiche from Cynthia of Two Red Bowls
Dark Chocolate Pistachio Ice Cream with Candied Bacon Bits from Steph of Girl Versus Dough
Fruity Dessert Pizza from Morgan of Peaches Please
Secret-Ingredient Chocolate Pecan Bites (Gluten Free!) from Karen of The Food Charlatan
DIY Cheesecake Parfait Bar from Heather of Heather's Dish