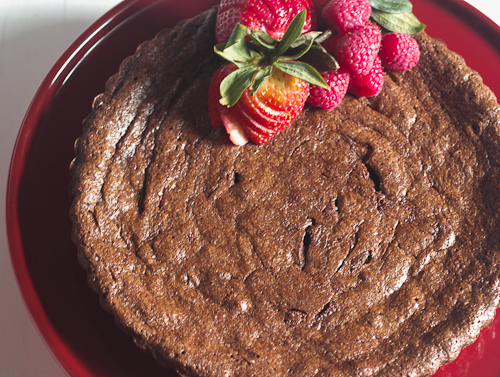 We have reached the end of the Passover recipe train, with the only fitting way I know how – with a luxurious, rich, incredibly delicious flourless chocolate torte. 
My good friend Carla from Chocolate Moosey is hosting #SundaySupper this week and weare bringing together Easter and Passover menus for you!  No matter your holiday, #SundaySupper has you covered and I'll be honest, despite being an "Easter" recipe there are a few that could easily cross over for Passover. 
Let's talk Passover desserts and how disappointing they are – after an absolutely fabulous  meal here comes dessert, dry bland cake, canned coconut macaroons (you know your family buys these), and chocolate covered matzoh.  The only decent thing at the table is going to be the fresh fruit salad and chocolate jelly rings! 
Matzoh cake meal does not equal good cake! Nor do the boxed cake mixes!  It's time to give them up!  This recipe does contain butter, so depending on how strict you are with the waiting time of meat and dairy you might want to use a substitute, but it isn't the butter that makes the cake.  Melted dark chocolate, whipped egg whites, cocoa powder and just enough sugar to sweeten everything it what makes this cake.  
I want you to imagine a giant, moist, light but rich truffle brownie. However, not so rich you can't dig in for that second slice. 🙂 This cake will change the face of your Passover dessert table forever!  It'll also make anyone who is gluten-intolerant extremely happy. 
Ingredients
6 ounces, semi-sweet or 60% dark chocolate finely chopped
1/2 cup (1 stick) unsalted butter
1/2 cup granulated white sugar
1/4 cup cocoa powder
1/2 teaspoon instant espresso powder
1/4 teaspoon salt
1 teaspoon vanilla extract
4 large eggs, separated
Instructions
Pre-heat your oven to 325 degrees F. Grease a 10-inch tart pan and set aside.
Using a double boiler, melt your chocolate and butter and set aside to cool slightly.
While the chocolate is cooling, using your hand or stand mixer with the whisk attachment, whip your egg whites until stiff peaks form, about 4-5 minutes.
Stir into the melted chocolate, the sugar, cocoa powder, espresso powder, salt and vanilla extract. Stir in the egg yolks, making sure all the ingredients are well incorporated.
With a rubber spatula, fold in half the egg whites into the chocolate mixture. Rotate the bowl, as you fold making sure not to deflate the egg whites. Add the remaining egg whites and continue folding. It is okay if there are some white streaks remaining.
Pour the batter into your prepared tart pan and bake for 25 minutes or until a toothpick inserted comes out clean.
Cool completely on a wire rack before removing the outer rim of the pan. Serve with fresh fruit.
https://girlinthelittleredkitchen.com/2013/03/flourless-chocolate-torte-sundaysupper/
Susan Palmer - Girl In The Little Red Kitchen
Make sure you check out the rest of the Passover and Easter menu for this week!
Easter
Breakfast, Breads, and Buns
Appetizers and Sides
Main Dishes
Dessert
Passover
Dessert
Wine Pairing Recommendations for #SundaySupper Religious Feasts from ENOFYLZ Wine Blog Join the #SundaySupper conversation on Twitter on Sunday, March 24 to talk all about Easter and Passover recipes! We'll tweet throughout the day and share recipes from all over the world. Our weekly chat starts at 7:00 pm EST. Follow the #SundaySupper hashtag, and remember to include it in your tweets to join in the chat. Check out our #SundaySupper Pinterest board for more delicious recipes and food photos.